Some online participations with camera on
On Sept. 09th, Local Chair - Prof. Toshiji Kato made an opening remarks, and Conference Chair - Prof. Hassan Bevrani host the morning session.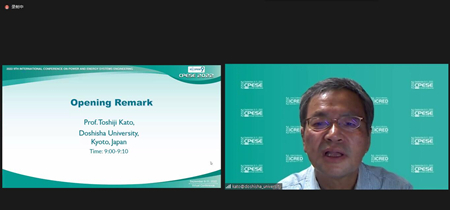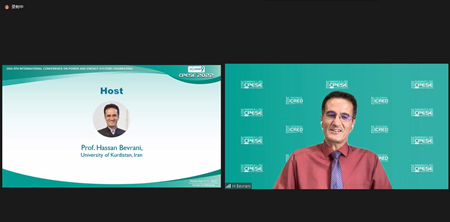 On keynote speeches session, Prof. Atsuo Kawamura (Fellow of IEEE), Prof. King-Jet Tseng (Fellow of IEEE), Prof. Jinyue Yan, Prof. Xiongfei Wang and Prof. Hassan Bevrani delivered excellent speeches.
On Panel Session, Prof. Qobad Shafiee, Prof. Yang Han and Prof. Saim Memon delivered excellent speeches and discussions around "Microgrids: Modelling, Stability and Control".
Moreover the conference was composed of Best Student Papers Competitions and 15 technical oral sessions, topics covered, for example, Intelligent Electrical Monitoring and Control; Distribution Network and Distribution System; Power System Control and Monitoring; Energy System and Dispatching; Generator and Power System and so on. Each parallel session went through smoothly and a "Best Presentation" award was issued at the closing ceremony.
On the afternoon of Sept. 11th, Conference Chair - Prof. Hassan Bevrani made concluding remarks during closing ceremony and Prof. Kei Eguchi announced the Winners of Best Student Paper Awards and Best Presentation Awards during that time.
---
Best Oral Presentation Awards Winners
Session 1 - Yong Kong | Nanjing Xiaozhuang University, China
Session 2 - Jun Hashimoto | National Institute of Advanced Industrial Science and Technology (AIST), Japan
Session 3 - Jia Liu | Hangzhou Dianzi University, China
Session 4 - Mohammed Rabie | Kyushu University, Japan
Session 5 - Hiroshi Kikusato | Fukushima Renewable Energy Institute, AIST (FREA), Japan
Session 6 - Azlin Mohd Azmi | Universiti Teknologi MARA, Malaysia
Session 7 - Kangli Liu | Southeast University, China
Session 8 - Triet Nguyen-Van | The University of Tokyo, Japan
Session 9 - Zhao Zhihua | Beijing Institute of Metrology, China
Session 10 - Mirnes Aganbegović | Nexans Power Accessories Germany, Germany
Session 11 - Philipp Reims | Production Engineering of E-Mobility Components of RWTH Aachen University, Germany
Session 12 - Zhang Hao | State Grid Shandong Electric Power Research Institute, China
Session 13 - Chaiyanan Kamsuwan | Chulalongkorn University, Thailand
Session 14 - Furqan Tahir | Hamad Bin Khalifa University, Qatar
Session 15 - Christian Stäck | RWTH Aachen University, Germany